Links about Molt Taylor and his aircraft designs.
The AeroCar Homepage
Ed Sweeney's page about the new AeroCar
Dr. Steeves official homepage for Molt Taylor's Coot Amphibian
A few, selected Aeronautical Engineering and Aircraft Design Links
AeroLogic produces a fabulous 3D aircraft lofting and modeling package and an improved version of NASA's Pmarc-12 CFD package that gives you your own "personal simulation works".
My former (and favorite) professor, Dr. Jan Roskam, has formed a company which has developed and marketed a first-rate package of aircraft design and analysis software as well as many other services.
Raymer's Aircraft Design System
Dan Raymer's software package for design and analysis. He has a version specifically made for the Homebuilt aircraft enthusiast. He has a textbook available to accompany the software. It's GREAT!
Public Domain Aeronautical Software
Ralph Carmichael's web page providing information about his CD-ROM of public domain programs converted to run on PC's. Very useful for you technical types

And speaking of dreams...
International Formula One Air Racing
This is what I really love! Now wouldn't a Formula One racer based on the Mini-IMP be something to think about… hmmmm…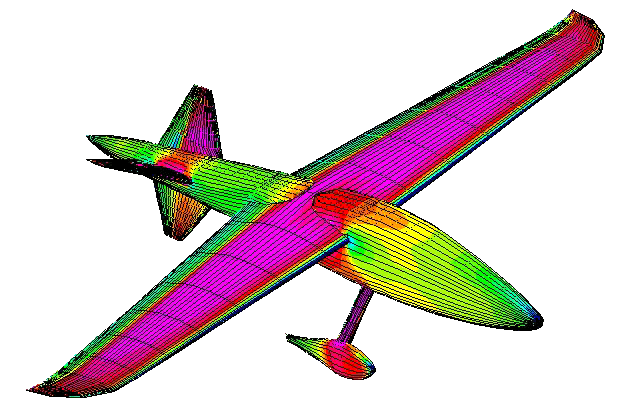 A CFD model of a potential Mini-IMP racer done with AeroLogic's PSW software